Working at City Barbeque can make you feel like a celebrity. When you're wearing that City BBQ logo outside the joints, get ready for compliments, high fives, and recipe requests. All that attention is just a reminder you're working for a team dedicated to serving others, creating happiness, and setting a standard. We stand behind that logo and everyone who wears it, and are dedicated to giving those folks a clear, proven career path. Go where you'll grow.
ROLES IN OUR JOINTS INCLUDE
DEJUAN GILES, ASSISTANT GENERAL MANAGER
Find the perfect flexible schedule that meets your needs.

Enjoy great pay and a competitive benefits package.

Share our success with opportunities for bonuses.

Make a difference with local nonprofits, community groups, and social causes.

Improve your life with a well-defined career path.

Join a people-first culture dedicated to work/life balance.

Earn vacation time–and work where you're encouraged to use the time you've earned.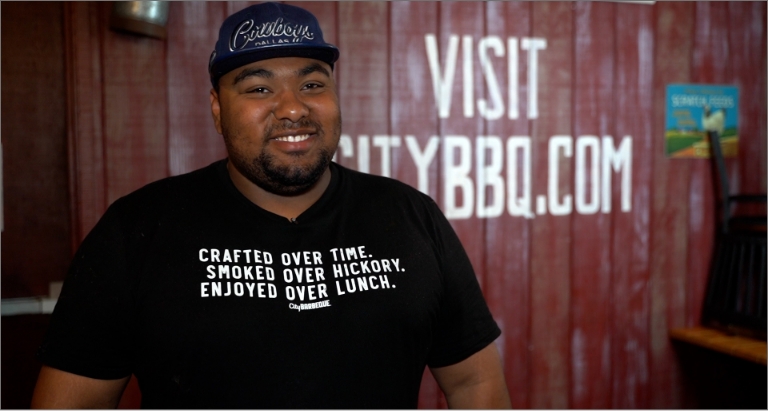 "I see a real future here and love the constant jubilant vibes. I could grow to become a general manager of a City BBQ one day and maybe one day you could work on my team!"
Savon,
Teammate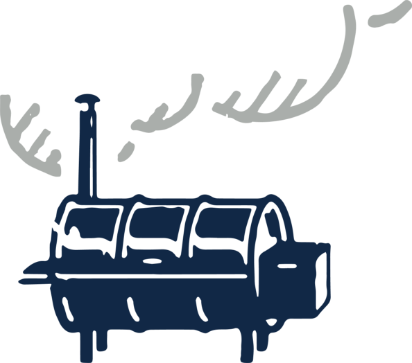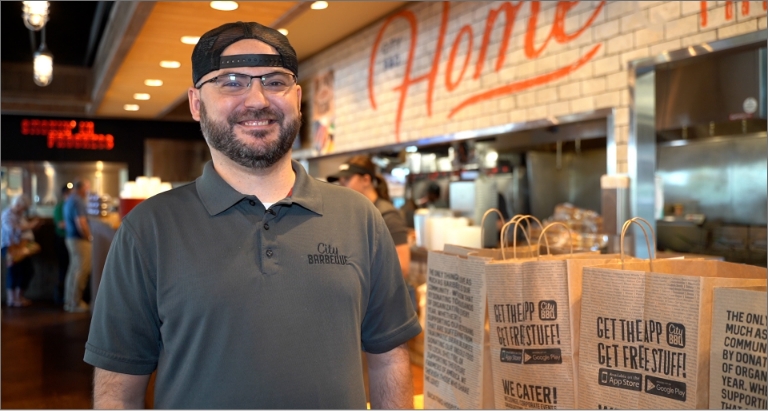 "I thought I wanted to be an FBI agent until I joined City BBQ for my first real job. I learned that people care about you at the company and moved up. Learning from one position to the next–after starting as a dishwasher–I now help manage a City BBQ."
Matt,
Asst. General Manager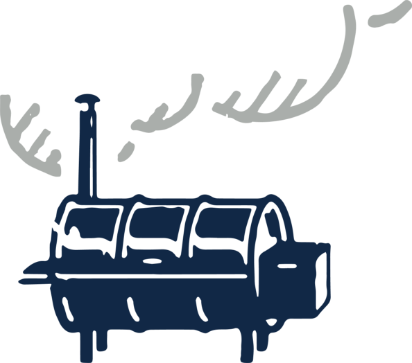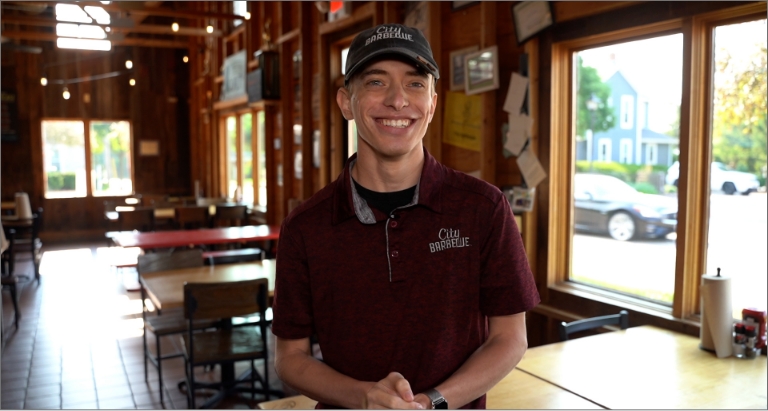 "This was my first job and I didn't go in thinking I'd be here long. Over the last several years I have seen and experienced opportunity. I take care of my grandparents and City BBQ accommodates my school and family responsibilities."
Kyle,
Shift Leader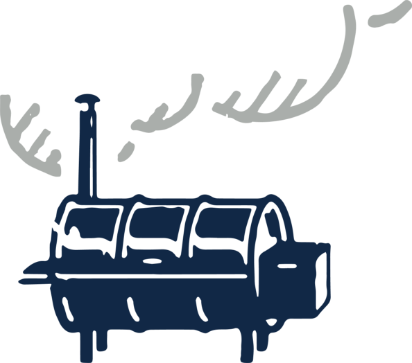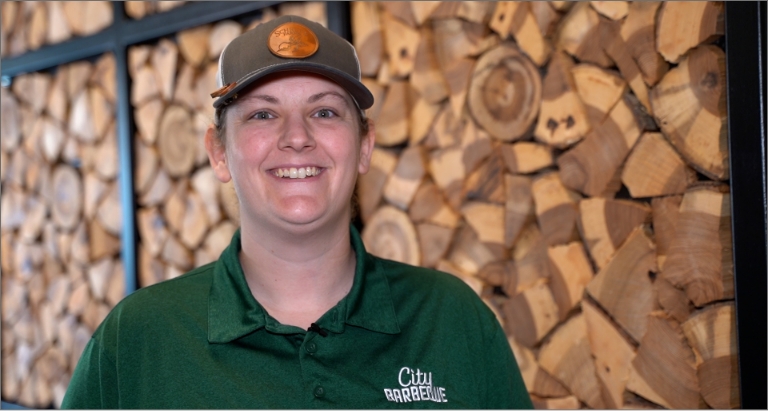 "What other company truly empowers employees to take care of the guest without getting a manager involved? With the cultural values we have in place it makes it easy to do your job. It's easy to show teammates and guests backyard hospitality."
Samantha,
General Manager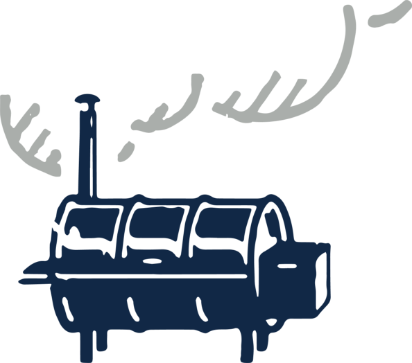 JOINT TEAMMATE PAY & BENEFITS
Reviews (with opportunities for raises!) twice a year
Up to $2,400/year in free BBQ
25% discount when off the clock
Free uniforms and slip-resistant shoes
Vacation pay*
401(k) match up to 4% of salary*
Annual scholarship opportunity (up to $3,000/year)
Flexible scheduling
Medical, dental, and vision insurance (after 60 days)*
Paid basic life insurance*
Voluntary life insurance*
Short-term disability*
Bereavement pay
A variety of healthcare benefits and programs, including accident and hospital insurance, Health Savings Accounts, and more*
Purchasing Power credit alternative
Access to City Cares, our teammate assistance fund, for qualifying instances of hardship or disaster
Access to counseling and community resources via our Employee Assistance Plan
Through UnitedHealthcare, UMR and HealthSCOPE Benefits creates and publishes the Machine-Readable Files on behalf of City Barbeque. Learn more about our Transparency in Coverage here
*for eligible teammates
ADDITIONAL MANAGER PAY & BENEFITS
Two weeks' vacation to start
Five floating holidays each year
Quarterly bonus opportunities
Paid short- and long-term disability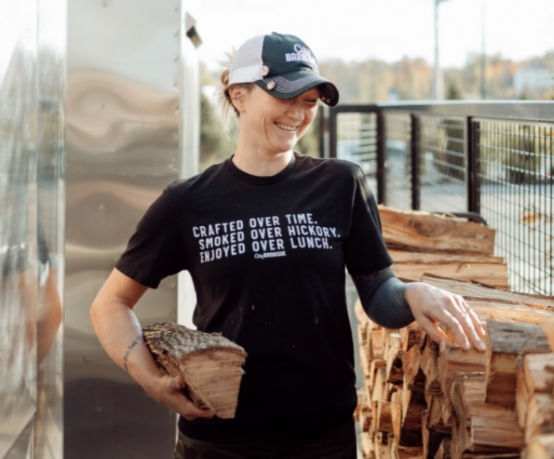 LEARN BBQ FROM THE BEST
You'll train for several shifts to learn your role with a blend of online and hands-on programs. With 10 different teammate positions in the joint, you have plenty of opportunities to build your skills. Two skill reviews and merit increases are guaranteed per year, with the ability to earn more for new certifications and promotions. Plus, you can explore becoming a Certified Trainer (which includes travel) or learn specialized skills (like our Pitmaster Program).

Nine out of 10 Shift Leaders at City Barbeque are promoted from within. With 20% new store growth every year, we've got a steady flow of new management roles, including General Manager and Multi-Unit Leader positions. Seize the opportunity for advancement and grow your career as we grow City Barbeque together.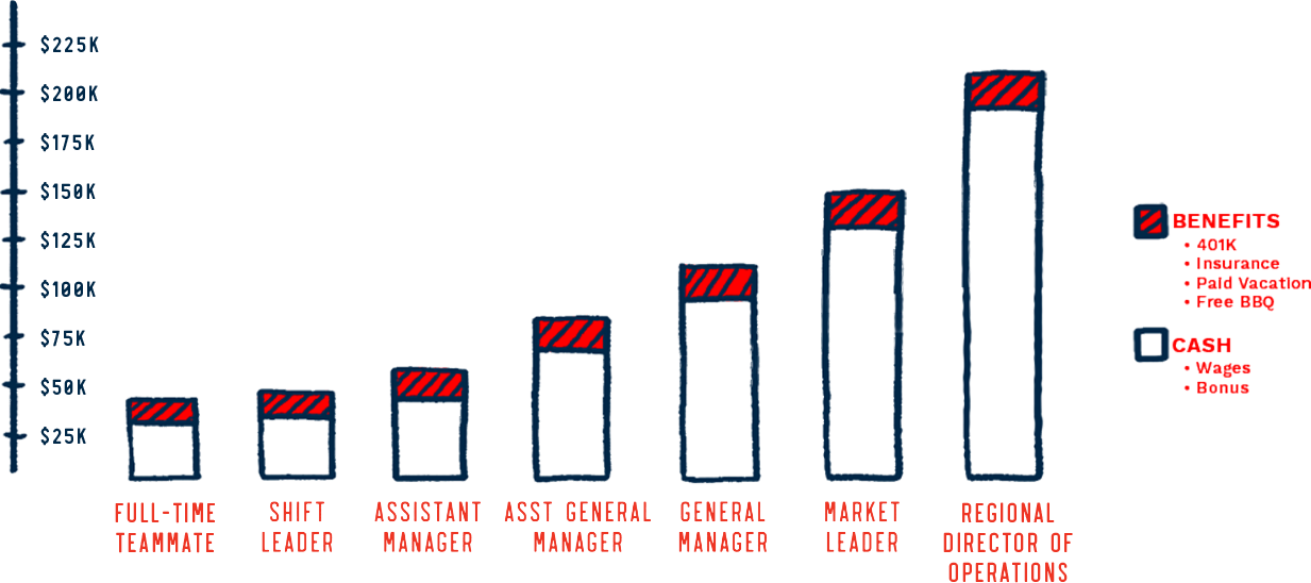 We opened our first joint in an old doughnut shop; from there, we've become a force to be reckoned with in the fast-casual restaurant space. We want every restaurant teammate in the City BBQ family to get a taste of the American dream through our profit-sharing bonus program. Be part of the team—and the continuing growth—here at City Barbeque.